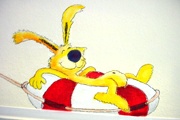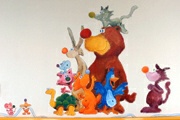 Wandgestaltung - artistic wall design
Hospitals - kindergartens - schools - private buildings
Since 1989 I have undertaken a variety of artistic wall designs ranging from sections of single
walls to parts of whole buildings. My main focus has been on painting interior walls with
attractive designs of particular appeal to children.
Design plans are made taking the peculiarities and function of the area into consideration, as well as any suggestions from the client. I try to create animated scenes which catch the observers' attention, leading it from detail to detail and leaving them wondering, "what happens next?"
The figures are painted directly onto the wall surface; characteristics and installations such as light switshes or fire extinguishers are integrated into the design where possible.
Reactions of children, parents, teachers, doctors, carers, and private clients have shown that my designs are of great interest and amusement to both young and old and stimulate children's imaginations in particular.
I apply emulsion paint directly to the wall surface and seal it with varnish if necessary. I use only water-based paints and varnish which are quick-drying and virtually odor-free, making execution of the work possible without blocking off the area. Prices are based on the scale of the work: size of area, choice of motif, travel distance and special working-conditions.

Alle Abbildungen rechtlich geschützt